Sometimes you take blog-worthy photos and don't work them into a post. And then too much time goes by. And that's where the photo dump comes in. Enjoy a post of mine where I don't rant for paragraphs at a time!
I briefly mentioned that we stopped at my hometown's peony garden in between my bridal shower and bachelorette party, but I only posted one photo! #betterlatethannever #peonies #basic
Speaking of my bachelorette party...
It was a super low-key night on the Oregon coast. There weren't many pictures so I didn't do a full post on it. Here's the group! #Seaside #notdrunk
I haven't included the furbabies in a while. These were also taken at my parents' over my bridal shower weekend. #dogbutt
Yay for giant #margaritas and creepy #photobombs! // Somehow, no one brought donuts in to work on #NationalDonutDay, but someone did a week later, so I had a belated celebration. // I'm obsessed with mugs. I love the #nautical ones because I'm also obsessed with nautical things. And I love the other one because it cracks me up. I found all of these at Powell's in #Portland. #goodmorningasshole
Loving my new soft pants from Old Navy! They were a bit out of my comfort zone (as in I don't normally wear things in such bold prints or non-basic cuts/materials) but definitely in my comfort zone in the literal sense (it felt like wearing pajamas to work!). And yes, this is a work bathroom selfie. Because it's easier than trying to clean up the bedroom to take selfies there. :) #bathroomselfieforthewin
Our dogs destroy their toys as soon as they get them. Tully has a sixth sense for them, I swear. Any time I bring home new toys, even if they're in a paper bag and not sticking out of the top, she just knows. She will whine and bark at the bag until I either give her one of the toys or hide the bag really well. Here she is loving life with a new toy. #spoiled #diva
I know I said I hadn't included the dogs and now I'm just all about them...sorry if you're not a dog person. Flora and Tully get along and they love playing together, but sometimes they get territorial over sleeping spaces or food. On this morning they were practically spooning, so I had to take a picture. #bigspoonlittlespoon #puppycuddles #doggysideeye
Did you notice my #hashtags? I'm participating in #hashtaghumpday for the first time! This link-up had me at hello. Ironic hashtags and Schmidt? #theseareafewofmyfavoritethings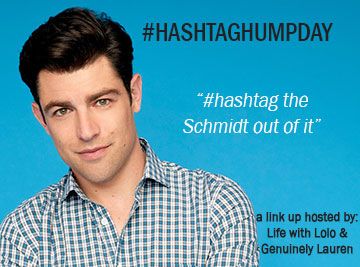 -Mattie